LGBTQIA+ staff, parents/guardians/family of LGBTQIA+ students, LGBTQIA+ family members and allies in the school and community joining together for a public school system in Fairfax County and City in which each person is welcome, safe, included and respected regardless of their identities, including but not limited to identities related to gender identity, sexual orientation, and gender expression.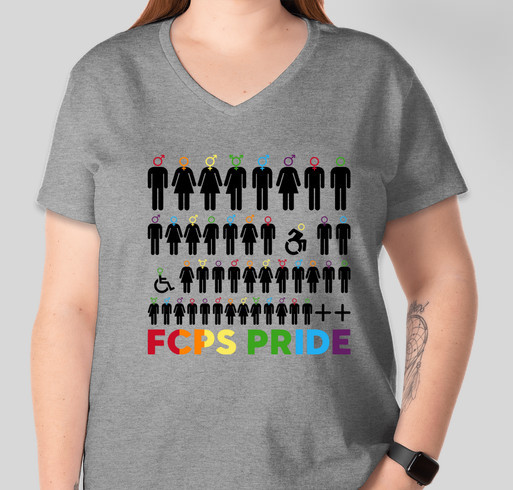 Welcome to the 2022-23 school year
Spring Indoor Bar-B-Cue on Sunday 3/26/23 was a lovely afternoon. Thanks to the venue, the crew, FCPS Pride Board, and all of our speakers.
Kudos to our keynote Mike Axler, FCPS Director, Prevention and Intervention
This afternoon FCPS Pride honored Heather Kirby and Shawn Rubin, counselors who have supported and served the LGBTQIA2S+ community for years. Even in these dark times we find joy in the fellowship and contributions of our "family" and allies.
Photos forthcoming 
Events for October:
Bring meat or veggies to grill (we'll have separate grills).
We'll bring cake, water, ketchup and mustard.
Snacks and drinks are welcome, but no alcohol.
Alas, the Fairfax County Park Authority (FCPA) says no sidewalk chalk, paints or balloons.
Families, teens and littles welcome. There's a nice playground.
Around 3 we will have talks by leaders and community organizations.
Protest October 6!
Rally/Protest/Celebration  for the acceptance of trans and gender-expansive people in Virginia schools.
Also, it is the School Board Proclamation of October as LGBTQIA+ History Month in Fairfax County Public Schools 
6:00 p.m. at Luther Jackson Middle School, 3020 Gallows Road, near the porch in the front of the school
We will have a rally and protest at 6, then  go in the meeting around 7 pm  for a photo with the school board (entirely optional for participants)
The very existence of trans people in Virginia and our schools is under attack by Richmond! The Youngkin/Schultz Department of Education has written a falsely named Model Policy that rewrites the Virginia Human Rights Act for schools to exclude LGBTQIA+ people, and effectively makes being safe or welcomed in a public school in Virginia impossible for transgender and non-binary students and staff.
Let's support and encourage the Fairfax County School Board in fighting this politically based exploitation of our must vulnerable. We're counting on FCPS to bring suit against the VDOE, and we will back them. Teachers are fearing for their jobs, students are being told by the Youngkin policy that they are pariahs and unwelcome. This attack can not stand!
This rally coincides with the LGBTQIA+ History Month recognition/resolution by the (if you would like) in the photograph for the School Board Resolution.
History Month is recognized in FCPS, and includes National Coming Out Day, and the anniversary of the 1997 March on Washington for Gay and Lesbian Rights.
Families and allies welcome–keep in mind that its a public event, so reporters and such may photograph you and/or your children. It is possible that there will be a counter-rally as sometimes in the past, so parents should be aware as they bring children. Watch this space for more information.
We will have speeches, goodies, flags and songs!
Our siblings in Miami-Dade school district in Florida decided NOT to recognize this month, but FCPS continues the tradition.
It's a chance to bring Queer history, LGBTQ liberation, and icons of our community (historical and modern) into our curriculum.
Student clubs may make announcements, and FCPS has developed some curriculum for educators to use for History Month.
Please sign up to speak at the meeting in support if you are able. Registration starts on Sept 30 for the October 6 meeting. Registration ends two days before the meeting. Here's the registration link on this page (all the information is here). https://www.fcps.edu/school-board/community-participation
Current concerns:
A) The school must take action early this fall to approve the Family Life Education Curriculum Advisory Report as it was published last may (and postponed in an almost unprecedented action). The change requested by parents/guardians in our community was to end separation by genders in the one or two hours of instruction in Human Growth and Development in grades 4-8. No benefit is gained from delay–a major deficit to further delay is the conveyance to the larger community of the strong method that the board and administration may be alarmed of explicit support of LGBTQIA+ students and their parents/guardians.
More information and clinical research on gender-combined FLE
B) Our community needs and asks for public response by leaders when dangerous, animosity-filled speech occurs at school board meetings against Black, Indigenous and other People of Color, and against LGBTQIA+ people occur at school board testimony. These dangerous words can't be allowed to stand unanswered.
C) Criminalization of students–FCPS needs a response to SB 36, which previous experience shows tends to criminalize behaviors by disabled students, male students, Black and Hispanic students, immigrant students, and LGBTQIA+ students. We can not change the law at this point, but FCPS can ameliorate the damage.
D) Model Policies on Explicit Materials from Virginia Department of Education (result of SB 656)–FCPS's policies and regulations already cover this "Model Policy;" we do NOT need any new policy.
But, leadership (Superintendent and School Board) should take concrete actions that will re-assure parents/guardians that the quality of the education in Fairfax will not decline because of self-censorship by teachers, librarians and school-based administrators. Staff should not be burdened with paperwork or dealing with inimical responses–region and cabinet-level staff should take the lead in supporting staff and families in maintaining our world-class curriculum.
E) Continued protection of our libraries
FCPS Pride envisions a public school system in  Virginia in which all people are welcome, safe and respected
LGBTQIA+ books returned to FCPS library circulation:
The books which were removed from circulation from our school libraries in September, Gender Queer: A Memoir by Maia Kobabe and Lawn Boy by Jonathan Evison  were returned to circulation today, November 30, 2021 after following the usual FCPS review process for challenged materials.
There has been an appeal to the superintendent to change that decision and remove the books. The step beyond that is an appeal to the school board.
Here is a link to the Washington Post articles on the return to and earlier removal from circulation: 
Nov. 24, 2021: Two books returned to circulation
Sept. 28. 2021: 2 books removed from circulation in FCPS
Schools adopt updated guidelines to protect transgender students at meeting that drew dueling protests
FCPS school board enacts policy about trans and gender-expansive inclusion in school

****Breaking June 22, 2021: Trans, non-binary, gender-non-conforming and other gender-expansive students have new rights and supports in FCPS.
FCPS welcomes LGBTQIA+ students and lists the rights and supports of Trans and Gender-Expansive students on this new webpage.
Support for Gender-Expansive and Transgender Students
The right to access restroom and locker room facilities and other non-stigmatizing accommodations that are consistent with the student's gender identity;

The right to non-disclosure of gender identity and/or sexual orientation unless required by law; 

The right to be called by chosen names and pronouns;

The right to internally generated and shared school lists of students (e.g., honor roll, graduation programs, yearbooks, school newspapers) that identify students by their chosen names and genders.

The right to receive support to ensure safe and equitable access to all school and FCPS facilities and activities.

Editorial note: the right to "shared schools lists" includes the right to have their chosen name appear in their school email accounts and on online platforms such as Google Meets and Schoology
Students or parents/guardians with questions about accessing supports for gender-expansive and transgender students should contact their school counselor, psychologist, social worker, or the FCPS Ombudsman. Parents/guardians can also contact the FCPS Parent Resource Center.
Editorial note: The " FCPS Ombudsman" is an anonymous problem-solver for anyone in FCPS (students, staff, parents). If you are encountering difficulty with getting any of these rights through, just call the Office of the Ombudsman or submit the form, and they will help fix it. The office is really the go-to place when you encounter barriers.
 Students may initiate any of these rights by contacting their counselor, or, if the counselor, is out for the summer, the Principal or the Ombudsman.
https://www.fcps.edu/resources/student-safety-and-wellness/lgbtqia-resources-and-supports?fbclid=IwAR1Phr6XERxbXkqrr97FJgzgP-ikFDhH7FNF7xQmdAmJ9y0jq4hsple1FhI
The members of FCPS Pride, staff and families, welcome and applaud the groundbreaking steps that Fairfax County Public Schools is undertaking to ensure that all students, including trans and gender-expansive students, are welcome, safe, and respected in our schools, from K to 12. We look forward to further action by the school board and administration to ensure that LGBTQIA+ students, staff and families are fully included in our school community.
As one student said, "Does this mean I won't be treated like a second-class child anymore?" One parent said "It's been hard negotiating every year for my child's rights in school. Now I know that my child and I have the full support of the school."
****Breaking July 27, 2021–Lynchburg Court supports trans students and disallows lawsuits against the Model Policies for the Treatment of Transgender Students in Virginia's Public Schools
Metroweekly article with FCPS Pride photo and statement
***Breaking, June 30, 2021–U.S. Supreme Court allows the rights of trans student to use restrooms (which align with their gender) in public schools to continue. This is Gavin Grimm's case decided by the 4th Circuit Court of appeals and applies to public (and private school which are not restricted to students of a single religion) schools in the Virginias, the Carolinas and Maryland (but not DC). There is a chance similar cases will make it to the Supreme Court eventually (see Drew Adams v. St. John School Board, which is awaiting a ruling from the 11th circuit in Atlanta; but this is a great victory, and its anticipation was an enabling factor in FCPS publishing Regulation 2603. 
U.S. Supreme Court permits restroom use in Virginia and neighboring states
Donations are welcome and will assist in our outreach efforts. To donate, follow this link: donations.